Who we are
We are part of the largest service organisation in the world 'The Association of Lions Clubs International'.  We are a very friendly organisation, and enjoy a good social life as well as an active life in service of others who have a greater need than ourselves.  We are Ordinary People doing Amazing Things, and our motto is "We Serve".
We are here to help – for support please complete our contact form which you can access by clicking here
Meetings
We usually meet 8pm at Bremhill View Social Club in Calne on the first Tuesday of each month.  If you are interested in becoming a member please complete our contact form by clicking here and our Membership Team will be more than happy to organise a meeting with you to tell you more about becoming a Lion.
How we raise funds
Lions clubs help local communities in a number of different ways with all money collected going directly to good causes.  Not one penny is spent on administration as Lions Club running costs are funded by its members.
We have our very popular and well known 'T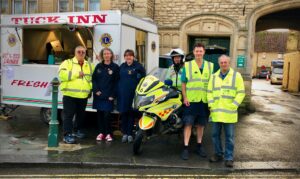 uck Inn' burger van where we cook delicious bacon sandwiches, burgers and hot dogs, as well as serving a range of hot  and cold drinks.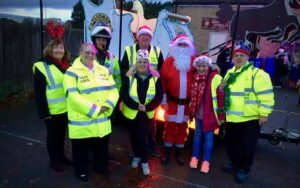 We do our famous Santa collection every December. You can hear us coming down your street collecting, bringing a smile to the young and old in Calne.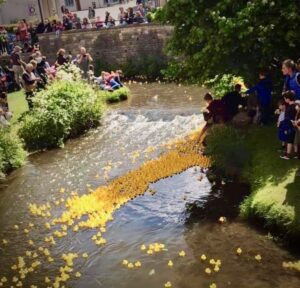 Every May the river in Calne becomes awash with over 3,500 bath ducks as well as larger decoy size ducks for the business duck race and childrens duck race as part of our annual Duck Race.
---